Peter tassi
7 Osgoode Crt, Hamilton, ON L8W 3C5 905-574-8274
ptassi29@yahoo.ca
LEADERSHIP
AND
PROGRAM MANAGEMENT
Pathways to Education: Program Coordinator of Mentoring: 2011 - Dec. 2012
Hire, train and supervise staff of Program Facilitators and Site Support Workers.

Conceived, designed and executed many new mentoring programs, some being fitness, cooking, entrepreneur, writing,

newspaper

and one to one mentoring program. Increasing program by 500%

Delivered effective program for and worked with youth ages 13-17, increasing attendance by 300%

Created many new partners in the community, some of these being YMCA,

Frisina

Group, John Howard Society, Hamilton Wentworth Police, Biz Clip, Shoulders,

OYAP

.

Develop volunteer partnerships with groups such as Trios,

McMaster

University

,

H.W.C.D.S.B

.

Solicited volunteers and developed training programs.
Spiritual Director/ Settlement Worker/Counsellor - St. Charles Adult Education Centre: 2009-2011
Connected clientele to an array of social services, and provided hands-on assistance with application and appeal procedures.

Negotiated with Ontario Works, Workers Safety and Insurance Board, landlords, paralegals, and lawyers to assist in settling disputes and other matters on behalf of clients;

Provided one-on-one counselling on personal and family issues, and introduced newcomers to various community groups within local ethnic communities;

Worked in conjunction with social service agencies, including the YWCA, YMCA, The Good Shepherd, Neighbour to Neighbour, plus numerous food banks and clothing agencies.

Assisted clients in choosing career paths, including post-secondary, specialized programs and apprenticeships.
Spiritual Leader: Chaplain of High School Communities: 1990-2008
Provided spiritual leadership to school communities ranging from 1500-2200 students and staff.

One-on-one counselling to students and staff on personal and professional issues.

Spearheaded retreats, worship services, and sacramental celebrations for staff and students. Spearheaded fundraising activities for local charities and overseas missions through in-house events and board-wide pilgrimages and entertainment events.

Worked in partnership with social service agencies, including The Good Shepherd,

St. Martin

's Manor, Brennan House, Notre Dame House, Neighbour to Neighbour, The Dream Centre, St. Vincent de Paul, and Out of the Cold.

Designed, wrote and taught Religious Renewal Courses to staff.

Taught OECTA course for

Brock

University

to staff for professional development.
Department Head of Religious Studies, Family Life, and Sociology-K-W Board: 1985 - 1990
Supervised a staff of 18 teachers across three departments, including

Hiring, conducting performance reviews, and professional development.

Wrote curriculum for Grades 9 to13.

Created evaluation procedures for students at the Basic, General and Advanced academic levels.

Evaluated and introduced educational and professional materials for all three departments.

Taught Religious Studies to Grades 9-13.
Missions/Fundraiser (Non Profit, Unregistered): 1995 - 2005
Co-Manager of Political Campaigns: 1980 - 1995
Candidates for federal and provincial parliaments, and Catholic school boards.

Organizing and overseeing recruiting and managing volunteers, managing and motivating volunteers.

Fundraising through special events and dinner parties.

Designing and overseeing distribution of campaign materials (from lawn signs to press releases).

Organizing and overseeing soft- and hard-canvassing, flyer drop-

off ,

transportation and phone campaign.

The budgets to run these campaigns depended on the level of office, ranged from $5,000 to $70,000.
Co-Director, Project Maranatha: 1980 - 1985
Built summer program for emotionally and behaviourally challenged teenaged boys.

Acquired federal charitable status for the project;

Raised funds to build a two-storey home for residents on 25 acres in

Rockwood

,

Ontario

;

Hired staff and recruit volunteers to oversee programming.
Director of Madonna House (St. Basil's Brantford)1977 - 1978
Converted a former convent into an Adult Education Centre.

Recruited volunteers to teach Sacramental Theology, Scripture, Church History and Philosophy.

Executed a public-speaking campaign to market the centre to parishes.

Scheduled and co-ordinated all aspects of centre business.

Taught undergraduate-level Theology and Philosophy to adult learners.
INTERESTS
(Over the years all my interests rested in many areas of entertainment(music, film, plays and books). I embarked on these projects in addition to my work, during holidays and in between careers.)
Writer and Co-Producer
Writer and assisted with production of feature film "The Call," shot in Atlanta, GA assisting with casting, location-scouting, hiring set designer and construction crews, and filming. The budget for this film was $700,000 with a cast of 12 principal actors and a working crew of roughly 30 people;

Writer and assisted with production of the feature film "3 days," assisting with securing financing from private and public sources, casting, set design and construction, and post-production. The budget for this film was $350,000 with a working crew of roughly 25 people.
Author
"Doing What You Love and Loving What You Do." Published by HWCDSB.

"Greatness in Our Teenagers: A 10-Step Guide for Parents and Educators" (

Paulist

Press, 2009)
"500 Prayers"

(

Twenty-Third Publications, 2004).
"The Beauty Within: Inspirational Stories and Practical Advice for Anyone Who Works (or Lives) With Teenagers" (

Morehouse

Publishing, 2000).

"

Hamilton

Heroes: Tales of Adventure, Adversity and Heroism from World War II"

(

Kiwanas

Canada

, 2009).

Stage musicals "Padre Pio," as well as "The Centurion" performed by theatre groups in

Canada

, the

U.S.

,

France

, the

Philippines

and

Kuwait

.

Screenplay "Confessions" (optioned to Royalty Entertainment,);

Authored an educational booklet, CD, and

DVD

"The

Bel

Canto Technique" starring New York Metropolitan Opera tenor Ed Johnson, self

puiblished

.

Authored "Room at the

Inn

: 101 activities for grades K-8", self-published, 1991.
Founder and President of

Ketari

Records and Publishing
Signed performing artists: writers, singers, session musicians.

Acquired publishing rights to songs for recording and release;

Worked with producers, mixers, musicians, managers and agents to develop artist and produce music singles, videos and albums for national release in Canada and limited release in the U.S.;

Achieved 4 top-ten hits in

Canada

on the

RPM

Weekly

chart, plus videos played on Much Music, and the 13-week television show "On Stage."
OTHER
WORK
EXPERIENCE
Real Estate Agent (part-time),

Mainstone

Realty,

Hamilton

, Ontario

Correctional Officer, (full-time) Hamilton-Wentworth Detention Centre

Steel Worker (summer part-time, the former Dofasco, Inc.,

Hamilton

,

Ontario

)

Steel Worker (full-time, Dofasco)
EDUCATION
B.Ed., University of Western Ontario
B.A., Religious Studies, University of Waterloo
Specialist Certification in Religious Studies and Special Education, Brock University
Real Estate Diploma, Mohawk College
Creative Writing Course, Mohawk College
REFERENCES AVAILABLE UPON REQUEST
---
© petertassi.com
Site developed and maintained by Paul Bentley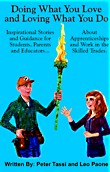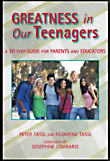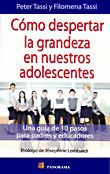 Greatness in Our Teens now available in Spanish